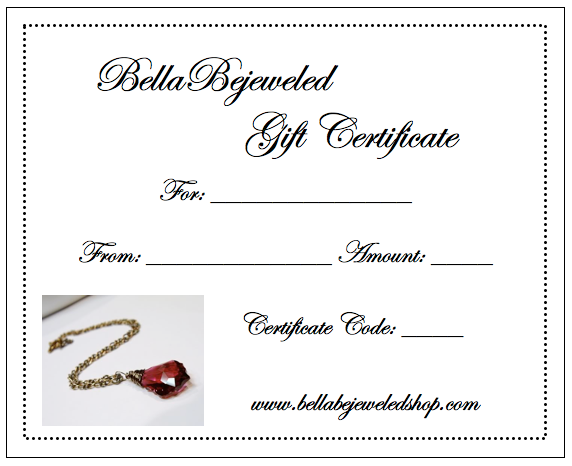 Gift giving has never been easier at BellaBejeweled! Whether it's a last minute gift for a coworker, or a surprise gift for a friend, a BellaBejeweled Gift Certificate is the perfect way to show someone you care... in minutes. It's so easy!

The recipient of the gift can use her Gift Certificate on anything in the store... even on a custom item! The Gift Certificates don't expire, so she can take her time shopping, and you can be sure she'll really get to use her gift for something special.

When you check out, we'll create a special file (like the one above) filled out with the recipient's name (if we have it), your name, and an exclusive certificate code that only the recipient will have. Certificates are emailed right to you within 24 hours of your purchase (but usually, within an hour or two).

All you have to do is choose the Gift Certificate you'd like on the drop-down menu below, and you are ready to check out. It's one-step shopping!

We'll even email the Gift Certificate right to the recipient if you'd like. Be sure to leave the recipient's name and email address in the box below if you'd like us to do this for you; we'll still email you a copy of the certificate, too!

And now for a limited time, get an even better deal on gifts from BellaBejeweled! Check out the drop-down menu below for seasonal discounts on Gift Certificates. Right now, you can get $5 off a gift of $50! PLUS an even better discount on other Gift Certificate offers. Don't miss out on this limited time offer!

Give her a gift that you know she'll love. Give BellaBejeweled!