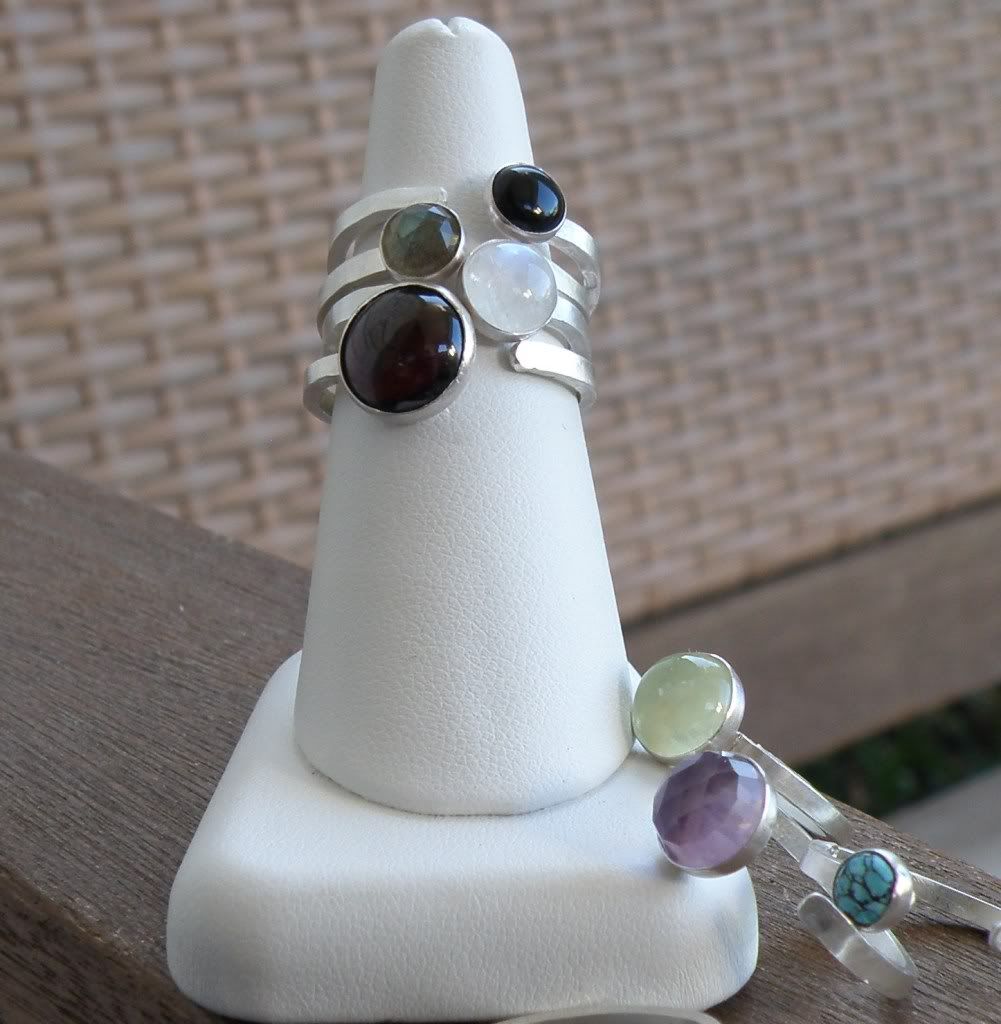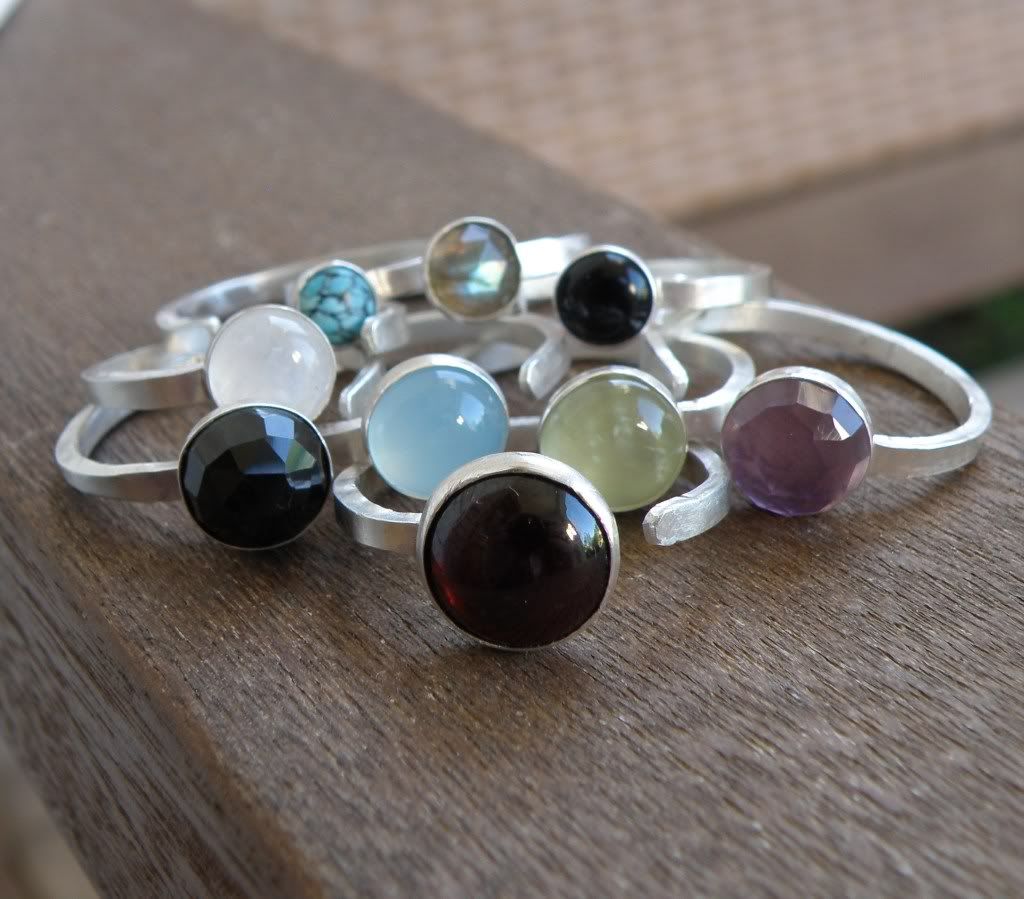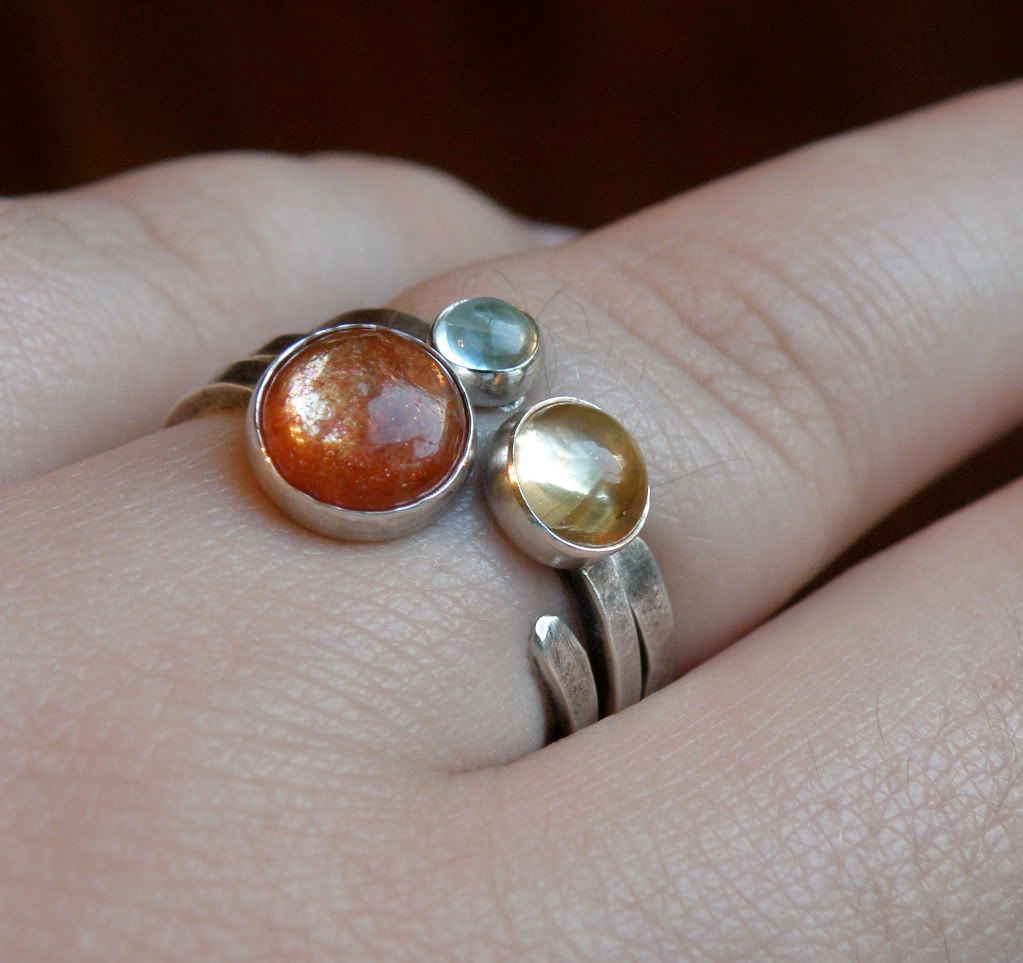 One of the things I love most about life is that, for each of us, the journey is unique. Seasons come and go for everyone, but no two of our stories will be alike. We travel through life and experience the ups and downs, twists and turns, changes made by our choice or despite it, and if we're lucky we have moments when we can look back and see a purpose around the bend, discovering that we're on a path we were destined to follow.

Inspired by Robert Frost's "The Road Not Taken," the unusual design of these stacking rings symbolizes the individual journey we each take. The side of each ring is left open to represent the paths we have left to travel and the pieces of ourselves left to uncover. These have been a favorite with every "test subject" (ie, friends and family forced to try out new designs) so far!

The rings are hand forged in solid sterling silver with genuine gemstones, hammered, with an organic brushed finish. Lovely alone, in sets of 2 or 3 or 4, or collect all 9 to create your own stylish compliment for every outfit in your wardrobe.

With an open side, the rings are also adjustable to fit you perfectly. Include your size at checkout, and we'll send them already sitting at your size (no size restrictions - we'll make them for you in any size). The rings are available individually so that you can mix and match to create your perfect set, as unique and beautiful as you are!


Rings available now (colors are labeled in the photos at the bottom of this listing):
Morning Dew's Way - 4mm Aquamarine - NEW!
Sunkissed Way - 6mm Citrine - NEW!
Warmth's Way -
8mm Sunstone
- NEW!

Lavender Way -

8mm Faceted Pink Amethyst


Moonlit Way -

7mm Rainbow Moonstone


Lover's Way -
10mm Garnet (Deep Red)
Arizona Way -

5mm Arizona Turquoise


Midnight Way -

6mm Black Onyx


Oceanside Way -

8mm Blue Chalcedony


Starry Way -

8mm Faceted Melanite Garnet (Black)


New Way -

8mm Prehnite (Spring Green)


Untold Way -

6mm Faceted Labradorite