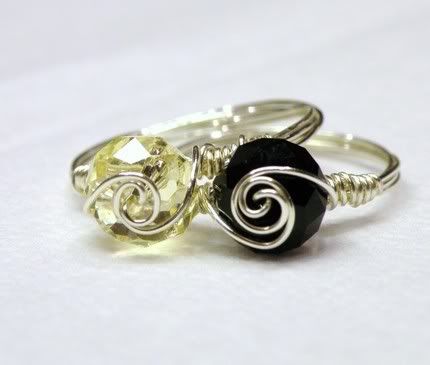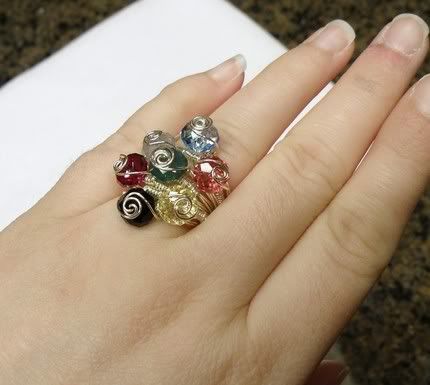 Love the Cullen family? Show it off with these beautiful Cullen-inspired stacking rings!

Timeless and chic, just like the vampire family that has stolen all of our hearts. Each character is represented with their own gorgeously sparkly, large Swarovski crystal rondelle, wire wrapped by hand into a gorgeous and unique stacking ring just for you. Whether you feel like wearing one ring or all nine, you'll look fabulous with these sparkly jewels!

So cute alone and gorgeous with my Twilight Characters Necklace, they are perfect for just about anybody. And with NINE large Swarovski crystals with tons of facets, this is one stacking set with serious sparkle!

Choose one ring, get them in pairs, or pick up the whole set... the choice is up to you! They look lovely together and the color combinations are endless. You'll love playing with them and creating your own look. PLUS, when you buy them as a complete set you SAVE! Remember to choose the number of rings you'd like in the drop-down menu below, and include the colors you'd like and your ring size so that we can get started right away on a set of rings made just for you. Mix, match, enjoy!



List of Characters and Colors:




*Edward - Moonlight (for his skin in the meadow scene, and the diamonds that he gave Bella)

*Bella - Blue (the color that Edward loves on her the most)

*Alice - Yellow (for her yellow porsche!)

*Jasper - Black (for his dark past, because he's the most dangerous of all the Cullens)

*Rosalie - Pink (could there possibly be any other color for her?)

*Emmett - Green (for his dramatic story of being saved in the forest)

*Carslile - Topaz (since he's the one who's the inspiration and leader for the "vegetarian" lifestyle)

*Esme - Mother-of-pearl Opal (Since she is the ultimate nurturing mom)

*Renesmee - Red (she is so extraordinary that no color will suit her perfectly, but when I think of Renesmee I think of the moment when Bella first heard her beating heart.)


Want to add your own color to the mix? Not a problem! Just send us an email and we'll get you set up with your own custom ring.

Carry a little Twilight love with you wherever you go. It's a must have for Twilight fans!



As Seen on Etsy Stalker!