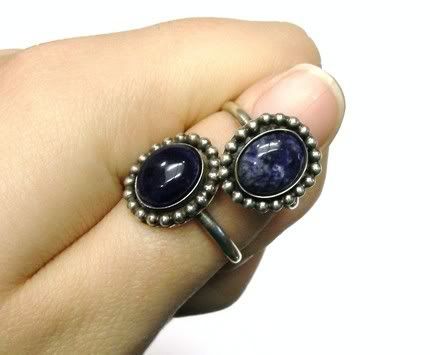 From the jewelry line that brought you the very first Esme-inspired ring, you can now get this classic design in solid sterling silver!

I love, love the ring that Esme wears in the kitchen scene in Twilight! Esme is so classy and to me, this ring is a simple representation of her lovely and
understated style.

This beautiful ring was inspired by Esme. Hand crafted out of solid sterling silver (stamped .925), the ring holds a sweet little blue oval. You get to choose between gorgeous light blue vintage glass, or a richer blue gemstone called sodalite. Sodalite is a gorgeous natural gemstone, with a subtle texture and great luster (so your little jewel is nice and shiny). Since sodalite is a natural stone, individual markings will vary, making each sodalite ring one of a kind!

The ring will be custom created just for you, so remember to include your ring size (half or quarter sizes are ok) in the box below!

It's subtle and stylish, just like Esme; understated enough for every day wear, but still dresses up beautifully. I hope you enjoy this little lovely as much as I do!