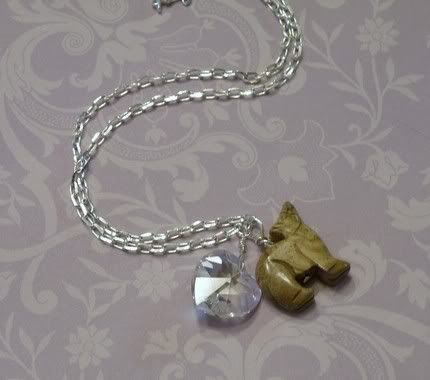 Photo Credit:
Forks University
Many thanks to the Bella Cullen Project and the producers at Forks University for choosing BellaBejeweled! Check out the amazing Let It Go music video here:

http://www.youtube.com/watch?v=Jrjr0B-ujkA

And be sure to check out all of Forks University's amazing productions!

www.forksuniversity.com

The BCP and Forks University chose the best, and so can you with this gorgeous necklace! Twilight has inspired so many beautiful bracelets, but some of us might prefer necklaces instead of - or in addition to - charm bracelets. BellaBejeweled first introduced the concept of Bella Charm Necklaces to online shoppers in 2008. The beautiful necklace offered at that time used vintage charms, and quickly sold out. I'm happy to bring you my second version now by popular demand, the bold and beautiful version of a Bella Charm Necklace!

This version makes a sparkling statement, with an 18mm Swarovski Moonlight heart perfectly accented with a hand carved wolf. Moonlight is Swarovski's synthetic diamond, with amazing sparkle that is superior to other crystals. The gorgeous howling wolf is hand carved out of an awesome jasper stone that has natural wood-like striations. It looks like wood, but is carved of stone and is sturdy enough to hold up to lots of wear. So perfect for Jacob!

The necklace hangs on an 18 inch chain and closes with a delicate heart-shaped toggle clasp. Each wolf is individual and unique. The placement of the striations and tone will vary in the stone, making each wolf and each necklace one of a kind!

A perfect gift for any Twilight fan!