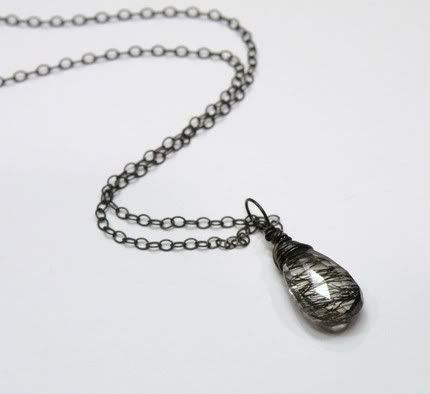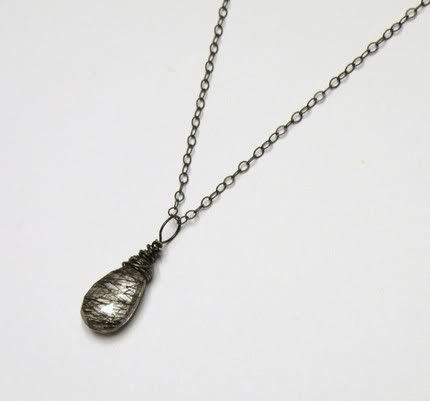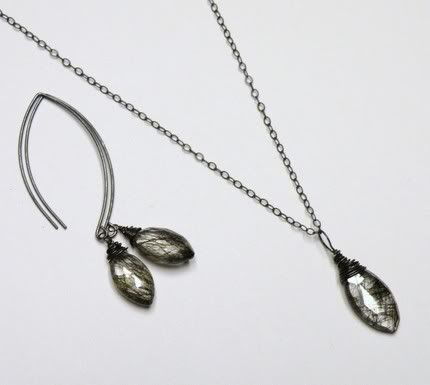 Dark, mysterious, breathtakingly beautiful.

This design has been so popular that I wasn't sure if I'd have the chance to bring it to you online! The entire first collection of Jasper necklaces were all snatched up by friends and family, and this was also one of the most popular designs at TwiCon, selling out within a day of being put on the table.

One of my favorite gemstone suppliers was able to help me find more of the perfect stones, and I am happy to be able to bring you this gorgeous design!

The necklace features an insanely high quality tourmalinated quartz gemstone, handwrapped in oxidized sterling silver, on a 17-inch oxidized sterling silver chain. This is the highest quality that I've seen in this stone in a long time! The clarity and luster (sparkliness) of the quartz is fantastic, and just the right amount of markings create a one of a kind, clearly visible pattern within each stone.

Each piece is unique and equally fantastic. Including the bail, each pendant measures around 1 to 1.5 inches. Makes a gorgeous statement alone, or use it as a layering piece!
Choose below between a pear-shaped stone (like a raindrop) or a slightly larger marquis-shaped stone (tapered to a point on both ends). Or if you love this gorgeous gemstone as much as I do, grab one of each and wear them together. No matter how you wear it, you can't go wrong with this twist on a classic design!