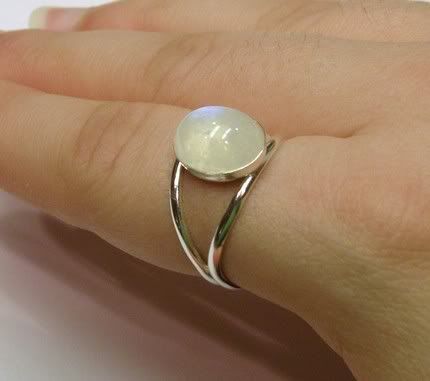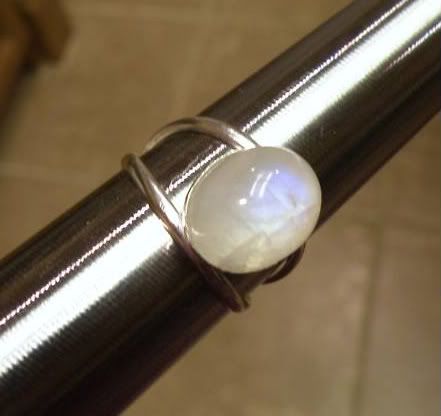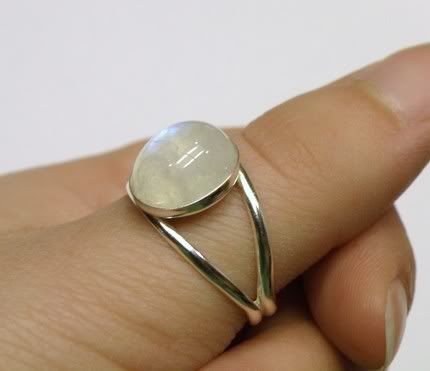 From the creator of the ORIGINAL Bella moonstone ring inspired by Twilight, let's welcome the newest addition to the BellaBejeweled rainbow moonstone line - an oval Bella Ring!

The original BellaBejeweled Bella Ring (which holds a gorgeous, round rainbow moonstone) is the most popular Bella Ring online. A stunning piece loved by thousands of customers, the original BB Bella Ring is one of my all time favorite pieces of jewelry!

Every now and then, I get a custom request from a client who loves the Bella Ring, but prefers to wear oval shaped stones. Every single custom order made with an oval stone has turned out so beautifully, I finally had to have one for myself. And who am I to be stingy with jewelry?? We debuted the oval Bella Ring at TwiCon with fantastic results, and I'm happy to bring it here to share with you now!

Each oval Bella Ring is handcrafted out of solid sterling silver (stamped .925), and holds a gorgeous, flashy oval rainbow moonstone. Our incredibly flashy rainbow moonstones are custom cut at the mine especially for BB - you can't get these beauties just anywhere!

Best of all, we offer an adjustable version that is just as lovely and high-quality as any other solid sterling silver ring. Just a little gentle pressure will allow you to customize your ring for the perfect fit! Made with exclusive supplies and lots of love, you can only get this gorgeous design here at BellaBejeweled.

~ Why adjustable? ~ My exclusive design allows the ring to be adjusted with gentle pressure, but is comfortable to wear and won't pinch or snag. I chose to make the ring this way because many of us like to change which finger we wear rings on, but not all of our fingers wear the same size. When giving a gift, we may or may not know the size of the person receiving. It's the best of both worlds - the best in quality AND flexibility!

Want the ring with a customized sized band instead? Not a problem! We can make your ring in any size (half or quarter sizes are ok too!). Just specify in the menu below whether you'd like adjustable or sized, and your ring size in US sizing. We'll take care of the rest!