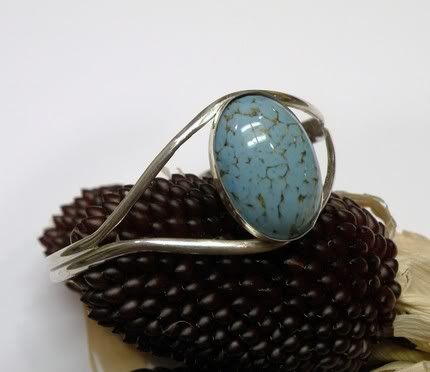 Welcome to the home of the very first Bella-inspired turquoise bracelet! First sold before the Twilight movie opened in 2008, the BellaBejeweled Turquoise bracelet with vintage West German Glass has become a staple in the Twilight community.

This gorgeous bracelet is handcrafted out of solid sterling silver (stamped .925), and set with an absolutely lovely piece of vintage West German Glass Turquoise. These fantastic pieces come mostly from the 1950's and give this simple, chic bracelet a little vintage charm. As these are genuine vintage West German pieces, supply will eventually run out. Order now while you still can!

High quality, handmade to last for generations, the cuff bracelet is made to be slightly adjustable, so that with gentle pressure you can customize it for the perfect fit. You'll love wearing it!