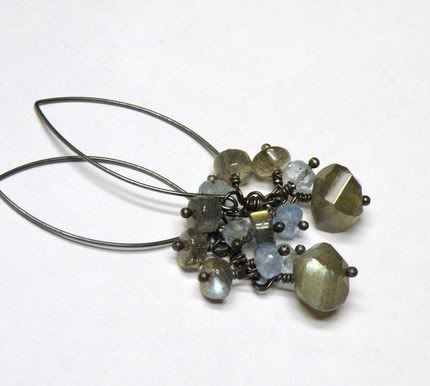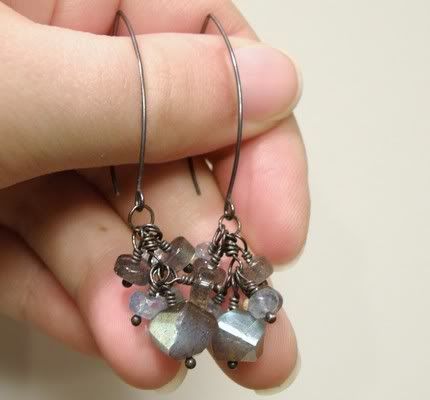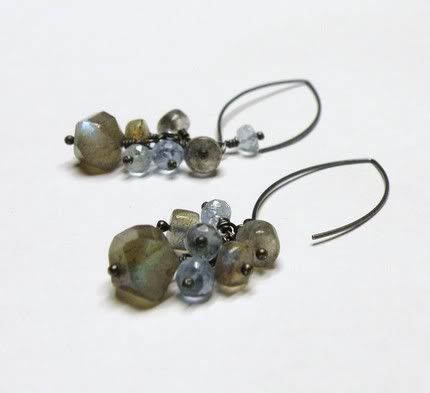 Swingy and fun! These gorgeous, flirty earrings were inspired by the always overcast, misty, stormy weather that provides the setting for the Twilight saga. Set on oxidized sterling silver, this unique design features spectacular, step-cut twist labradorites. I absolutely love this unique cut! The sparkly twists are accented gorgeously by smaller, flashy labradorites and sparkly aquamarines.

Labradorite is a beautiful gemstone, with a speckled, softly glittery texture and flashes of blue and green. The facets and flashes on these pieces look so much like lightning to me... Gorgeous!

The earrings are handmade using solid sterling silver and genuine gemstones. Flirty and fun with lots of swing, you get tons of sparkle and colorful flash with every movement. The earrings look amazing with jeans and a tshirt, or spruce them up with a cute cocktail dress! You just can't go wrong with these quirky yet classy gems.

This is a limited edition design - If you love them, grab them while you can!

~ SOLD OUT ~
Sorry, this design has sold out! Wishing for something similar? Email us and request a custom pair of earrings inspired by these!