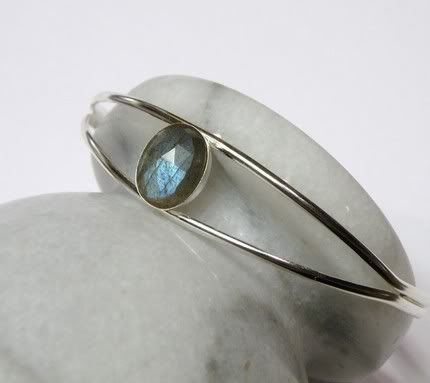 This absolutely lovely handmade bracelet was inspired by the always overcast, misty, stormy weather that provides the setting for the Twilight saga. The simple, delicate design highlights a gorgeously glittery, faceted labradorite gemstone. These labradorite stones are so unique, with a speckled, softly glittery texture and flashes of blue and green.
The handcrafted sterling silver bracelet is the perfect size - neither too large or too big, it's simple enough for every day wear and dresses up gorgeously! Keep your eyes out over the next few weeks for the rest of my "In the Mist" line.
The gemstone measures 12mm at the tallest point. The bracelet itself is made of solid sterling silver and is adjustable with firm, gentle pressure, so that you can find your perfect fit!
Please note that no two labradorites are alike! Each stone has its own unique markings and flashes of color. So, in a way, each bracelet becomes one of a kind. :) I've only used the most beautiful, flashy stones for this design!
For more info on this gorgeous bracelet and to purchase, check out the full listing at:
http://bellabejeweled.com/product/mist-cuff-bracelet/