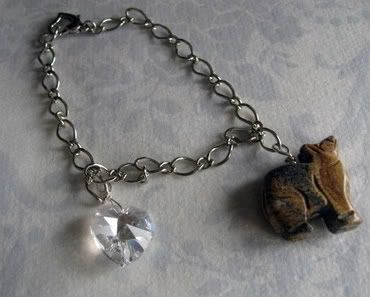 Photo Credit:
Forks University
Many thanks to the Bella Cullen Project and the producers at Forks University for choosing BellaBejeweled! Check out the amazing Let It Go music video here:

http://www.youtube.com/watch?v=Jrjr0B-ujkA

And be sure to check out all of Forks University's amazing productions!

www.forksuniversity.com

The Bella Cullen Project chose the best, and so can you. Get this original BellaBejeweled design, and don't forget to share the music video with your friends!

This bracelet consists of a lovely rhodium plated chain, which closes with a delicate heart shaped lobster clasp. Rhodium, part of the platinum family, is beautiful, durable, and tarnish resistant to keep its shine for years to come! A hand carved howling wolf (carved out of a jasper stone, with natural wood-like striations) and a 14mm Swarovski Moonlight heart balance each other beautifully. Just like the carved wolf from Jacob and the diamond heart from Edward, it's the most authentic and beautiful Bella charm bracelet available!